Emmy Red Carpet
I missed the red carpet coverage of The Emmy awards last night, but couldn't wait to get to a computer so I could see all the pretty dresses. It's my favorite past-time during awards season. Although there were some lovely ones, I was a little disappointed. I saw a lot more dresses that I didn't like over ones that I did :| Oh, & everyone doing that Angelina Jolie leg thing? No thanks!
Anyway, here are some of my favorites. (ALL PHOTOS ARE FROM EONLINE.COM)
I loved the form-fitting dresses with bright/neon colors the most. Who cares if it's Fall? Brights were in! Can't really argue with "gorgeous."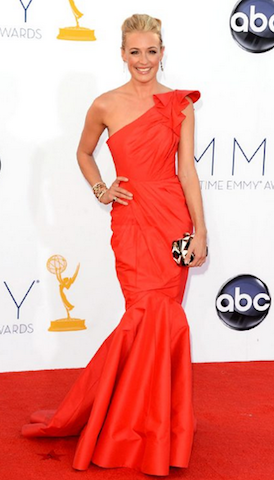 Two of my favorite-comedian-ladies looked pretty beautiful in their dresses as well.
At the first glance of the two below, I was like, "No. Patterns? No." But then, the longer I looked, the more I liked. It's kind of a "love at 2nd sight" thing :D
I thought these dresses were pretty exceptionally unacceptable. Not my favorites from the carpet:
To end this post on a good note, I thought I'd share my newest favorite celebrity couple (Watch behind the scenes of Friends with Kids and you'll love them too! They are so cute together.) + my favorite of all the Emmy-dresses...if it glitters, it's a winner in my book! :)
Hope your week has started out great. Pretty red carpet style has already made mine a little better!