Valentine's Day Blog Swaps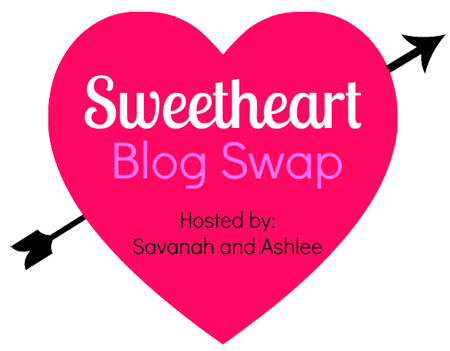 I was so excited to be a part of my first swap. I was paired up with one of the hosts herself, Savanah from
What Makes Savanah Smile
. Even though I've been a follower of Savanah's for a long time now, I stalked her posts, (old + new) for days! It was so much fun. I felt like a creeper, but a little awesome too. I hope she and her new hubby are able to enjoy their party-in-a-box that I sent, complete with cupcakes, chapagne glasses + decorations: garland, balloons and confetti (colors inspired by Texas Tech raider red).
I was excited to see my package arrive from her a couple of weeks ago. Here are all of the awesome goodies! The frame is PERFECT for my bedroom, I didn't have a kitchen towel at all (& a super cute cupcake one is even better!), I love all the stickers (I used on some of my V-Day cards) & the chocolate was all eaten on Super Bowl Sunday! I couldn't wait.



Thank you so much Savanah! Happy first-married-Valentine's Day. Mine is already awesome thanks to you!